The Fabaceae is "a tall, flowering plant", surely one of the prettiest plants on the island. As the notes describe eloquently, "a spire of bright red legumes rises above its blooming sepals and petals".
WARNING: SPOILERS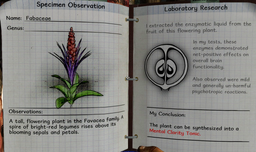 The plant is found near hut 
T1
, and may be synthesised into a
Mental clarity tonic
.
Ad blocker interference detected!
Wikia is a free-to-use site that makes money from advertising. We have a modified experience for viewers using ad blockers

Wikia is not accessible if you've made further modifications. Remove the custom ad blocker rule(s) and the page will load as expected.