Description
Edit
This plant is an oxygen inhibitor.
WARNING: SPOILERS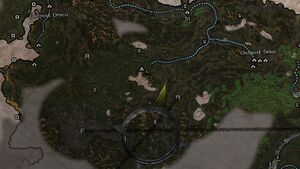 In the centre of the Southeastern_Peninsula, West of Outpost Rigel and south-west of Outpost Sirius in a deep valley between steep mountains.
Pretty much centred between Outpost Draco, Outpost Sirius and R1. If you're wandering around swampy ruins, you're too far east.
Usually grows right near a log as in screenshots.
 
May be used together with the
Titan Plant
in the synthesis of
Agent Z
, part of
the cure
 for the 
plague
.
Ad blocker interference detected!
Wikia is a free-to-use site that makes money from advertising. We have a modified experience for viewers using ad blockers

Wikia is not accessible if you've made further modifications. Remove the custom ad blocker rule(s) and the page will load as expected.