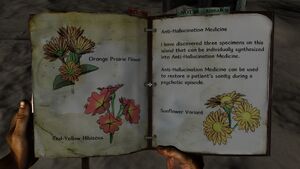 Originally a planned medication, it was removed before release.
Notes about the ability to create it were left in as clues, even though it is not possible to make by the player.[1]
Potential spoilers:
Thought to help aid the player in avoiding the creature, it was decided that it gave too much plot away and potential unbalancing it may have caused.
References
Edit
Ad blocker interference detected!
Wikia is a free-to-use site that makes money from advertising. We have a modified experience for viewers using ad blockers

Wikia is not accessible if you've made further modifications. Remove the custom ad blocker rule(s) and the page will load as expected.